Enriching the property industry to new industrious statures
In this constantly shifting industry of property development, the competition is stiff, allowing for companies to take a healthy look at their own progress and development within the industry. To stay relevant to the game, diversification and evolution of the company's brand is vital, elevating their status and name on an already crowded platform. Marvelane is one such company that is ahead of the game, with a stellar portfolio of projects and developments that will inherently carry the company into 2017 with a bang.
Foundations laid in engineering
1989 saw Marvelane planting its earliest roots in engineering, as a consulting engineering firm (civil and structure). Through countless years of immersion in the property industry, the young company had worked and associated itself with many top developers, building an impressive networking portfolio that inherently led to its solid induction into the property industry. The company began property investment in 1998, and has currently invested in over 100 properties to date. By discerning the demands of purchasers during the earlier days, it allowed the attainment of vital seed money, a crucial aspect for the company at that time to increase its credibility in order to borrow from financial institutions for its property development plans. With its rapid ascension in the property industry, Marvelane moved to property investment in 2010, cementing its roots.
Going full circle with M360
By understanding market demands and needs, Marvelane poised itself in incorporating the latest technology, methodology and innovation that spurred the property industry within a modern and urbanised landscape. Comprised under the industrious concept of M360, the company developed a one of a kind holistic approach in the planning, designing and building of its developments, as affirmed by Marvelane managing director Ir Ong Choon Hock. "Marvelane provides building materials and products that appreciate in value, setting it apart from other developers," he asserts. The following eight fundamentals were taken into consideration, making up the essence of M360: –
Ambience
Location & Accessibility
Amenities & Facilities
Security & Community
Sustainability
Design & Technology
Quality
Fair value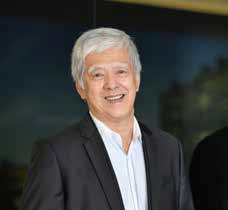 "With the seed money created from boutique development, we hope to move into a township development in the future." – Ir Ong Choon Hock
Achievements unlocked
Marvelane prides itself in establishing projects of a high calibre, as seen with its biggest success story – Marvelane Square. Located at Jalan Meru in Klang, the development consists of a commercial centre with 3-storey semi-detached and bungalow shop offices, accompanied with its own carparks. Launched in 2011, it boasted the most expensive shop offices on the market back then, costing slightly more than RM3 million. Due to its strategic location and efficient planning, the company achieved 100% sales within 9 months, with profits earned at 60% higher than conventional developments. The project was completed in 2013, and is currently 80% occupied. However, as with most success stories, the company did face many challenges in its rise to glorified heights. It is these challenges and trials that have inherently shaped and moulded the prestigious developer to the company it is today, with class that denotes its charisma.
Rocky roads
As with all developers, consumer confidence was the key issue faced due to the imposition of GST, RPGT and the removal of DIBS. Apart from that, high household debts (88.9%) resulted in Bank Negara's introduction of more stringent conditions for loan approvals, resulting in a reduced loan approval rate. The value of the Malaysian Ringgit that was affected badly by the 1MDB scandal and worldwide publicity on corruption in Malaysia resulted in inflationary pressure, that inherently affected property purchasers' trends in property consumerism. Marvelane's managing director Ir Ong Choon Hock believes that consumer confidence will be improved in the first half of 2017, allowing for property purchasers to hit back into the market in the coming new year.
Diving into 2017
Marvelane's current project, Marvelane Homes By The Lake, is set to be a defining chapter in the company's profile. Located in the affluent Putra Heights, the project boasts high connectivity to four major highways – New Klang Valley Expressway (NKVE), Damansara-Puchong Expressway (LDP), Shah Alam Expressway (KESAS), and North-South Expressway Central Link (ELITE Highway).
Due to the current poor market sentiments, Marvelane is taking a step forward for its target audience, by providing bridging loans to the first 20 purchasers at their Phase 1 development of Marvelane Homes By The Lake. For the upgrader, approximately two and a half years are given to the purchaser to sell the existing property. As for investors on the other hand, it is stipulated that approximately two and a half years are given to the purchaser to raise the necessary down payment for the properties (please see table below).
A class on its own
Marvelane strives to set itself apart from other competitors in the industry, with many differing features that conceptualize its best qualities. The determining factors that sets Marvelane Homes By The Lake apart from other developers include: –
A 16-acre lake with Class 1 water quality. M360 was introduced to ensure that water quality is maintained at Class 1 at all time.
Good connectivity to major highways (NKVE, LDP, KESAS, ELITE), with an LRT station that lays 500m away. The quantum appreciation is 10%-15%.
Conducive location in a matured and affluent neighbourhood with a Chinese primary school, private college and universities, shopping malls and hospitals.
Audited by Feng Shui master Dato' Joey Yap, Bukit Cermin serves as the main mountain for the site and it is further embraced by the internal green dragon and white tiger (armchair formation). The beneficial Qi is then generated and tapped in the lake and this results in:
The presence of a lake at the south west corner of the site augurs well for wealth accumulation for period eight (2004-2023).
The presence of Bukit Cermin at the south sector provides opportunity for status, power and recognition. The low-lying area where Qi is accumulated also provides opportunity for wealth accumulation for period nine (2024-2043).
Future market trends – what's expected
Marvelane knows that the two questions that are currently circulating the property roundtable, is when will the property price come down; and when is the right time to emerge into the market. To digest these queries, the cost structure of a development must be fully comprehended.
Land cost will trend upwards due to shortage of land for development in big cities and urban migration.
Construction cost – will trend upwards due to GST and labour shortage.
Financing cost – will trend upwards as the U.S. is expected to increase interest rate.
Compliance cost & Professional Fee – Compliance cost will trend upwards (5% in 2008 to 13% in 2016) and Professional fee will also trend upwards due to inflationary pressure.
Based on Marvelane's property cycle study and intermarket analysis, the present consolidation is mid-cycle consolidation, with the drop of property prices not as severe as the end property cycle consolidation. The duration of the consolidation should be shorter than the end cycle consolidation
What's in store for Marvelane in 2017
With a deep understanding of the current property market trends and aesthetics, Marvelane are poised to take on 2017 with a good head on their shoulders. "We would like to be a boutique developer when we develop our existing land banks. With the seed money created from boutique development, we hope to move into a township development in the future," Ir Ong affirms with a contented smile. Marvelane are well on their way to cementing its name in the annals of property history.
As featured in Property Insight: Here